Standing out in the ultra-competitive outdoor, hunting and firearms industry is really difficult—if not impossible. The imagery is getting better. The copy is more persuasive. The products are more durable and it seems like every brand claims the same thing:
We Make the World's_____.
We're the Superior ______.
We're #1 in _____.
The Worlds' Most_____.
The Ultimate _____.
Does the above list sound familiar? A quick look through any outdoor, hunting or firearms magazine and you'll see what I mean.
There's nothing wrong with claiming to be the best—if you're a brand who really is the market leader – MagPul (Mags), Sig (Pistols), Ruger (10/22), Remington (700)—you earned it. But for brands less well known, making such claims can be down-right dishonest.  The truth is, if you're a relative unknown brand making the claim that you're "the best," you're wasting money on marketing and your customers don't believe you anyway. False claims have caused a backlash in other industries as well as our own.
People have great distrust in brands (and companies) these days (Source: Forbes). It's been documented that your prospective customers will check out 11 pieces (social media, reviews, blogs, websites, ads, forum review and articles) of content before deciding to hand over their hard-earned money because they are afraid of being cheated or taken of advantage of. When was the last time you bought something for first time over $250 without doing any research online?
To combat this "me-too," and "I'm the best" mentality, marketers and business owners need to find other ways to get their customer's attention and break out in the marketplace—and the way to effectively accomplish this is by putting in the time to think through their messaging —a good way to do this is through the power of story.
Story has been around since creation. Story has been hard-wired into our brain as a sense-making device. It helps us understand our environment, situations and how to achieve our goals. Stories engage our imaginations and hold our attention for hours on end. Think about the last great movie you saw. Movies like Jason Bourne, Days of Thunder, Star Wars and Saving Private Ryan are all incredibly captivating.
The same methods used in the movies can also apply to your outdoor, hunting, defense or firearms business.
In the following, I'm going to explain how to write story into your marketing, make your customer the hero and stand out in the marketplace to attract more customers. This process if called StoryBrand.
1. A Character
Make your customer the hero, not your brand.
Every great story starts with a hero. The hero in your business is your customer. As humans, we all want to become something better: better hunters, better shooters, more fit, smarter and more wealthy. We also have personality and character traits like age, income, values, beliefs and interests. Define your customer as the hero in your ads, emails, website copy, and sales letter. Once you start defining what your customer wants, they start paying attention.
Q: How can you make your customer the hero?
Brands that participate in the transformation of their customers win in the marketplace. (Source: StoryBrand)

2. Has a Problem
Every hero in every story has a problem that must be solved. Without a problem to be addressed (a bomb to diffuse, a girl to rescue or a disaster to prevent) the story would fall flat and you lose your audience's interest. It's up to you to identify what the problem is and how the hero will overcome this problem.
Q: What problem does your product or service solve?
A story gets interesting when the conflict is defined. (Source: StoryBrand)
3. Meets a Guide Who Understands Them
No hero can solve the problem on their own. They can try, but it won't be as successful nor as exciting. Luke Skywalker had Ben Kenobi, Cole Trickle had Harry Hogge, and Neo had Morpheus.
This is how your brand plays the guide:
First, you must show Empathy. Empathy means to relate. How can you empathize with your customer's problem?
Second is Authority. Heroes look to guides who have gone before them. If you haven't gone where your customer wants to go, how can you be the guide?  How have you solved the same problem your customer is trying to solve? This must be communicated clearly to establish trust.
Never position yourself as the hero in your brand's story. (Source: StoryBrand)
4. Who gives them a Plan
At this point in the story, your customers find themselves at risk. This is the point where most customers will bounce off your website or find themselves confused about what you offer. The purpose of giving them a plan is to break down the steps on what it takes to work with or buy from you. The plan eases any friction points in the buying process and helps your customer move forward.
Q: What are the steps your customer must take to work with you?
A plan alleviates confusion or hesitancy about the next step. (Source: StoryBrand)
5. And Calls them to Action
No story can proceed until the hero is called to action. Your customer will not take action unless they are challenged. You must call them to do something.
Buy Now
Schedule A Call
Sign Up
Find A Dealer
are all clear call to actions. This language must be repeated over and over again to make it clear what it is you want your customer to do.
Q: Do you have a clear call to action on your website?
If we don't have the confidence to ask people to buy from us, they assume our product won't solve their problem. (Source: StoryBrand)
6. That Helps Them Avoid Failure
Two forces motivate people: avoiding failure and experiencing success. Every human being is trying to avoid a tragic ending. Your customer must know how you will help them be successful.
Q: How will your product or service help your customer avoid failure.
Human beings are sometimes more motivated to avoid a loss than achieve gain. (Source: StoryBrand)
7. Or Ends in Success
As the guide, you must cast the vision of what success looks like if your customer uses your product or services.
Communicate through words and images that your product or service solves your customers' problems. (Source: StoryBrand)
By understanding these seven principles, you will be able to
Stop wasting money on ineffective marketing
Get and keep your customers attention
Cut through the marketplace clutter of me-too products
Attract more customers
By taking the time to clarify your message and figure out these aspects of your story, you will be able to transform your marketing, attract new customers and stand out in the crowded marketplace.
You can also schedule a call with me, and get a clear plan on how stand out in the crowded outdoor, hunting, defense and firearms marketplace.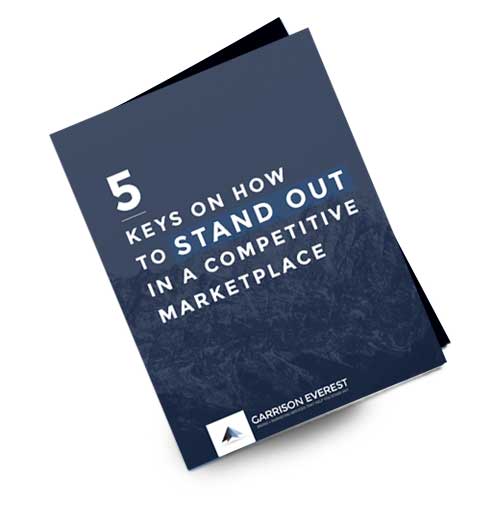 5 KEYS ON HOW TO STAND OUT IN A COMPETITIVE MARKETPLACE
Is your brand getting noticed?
In this ebook, we'll give you 5 keys that will help you differentiate and grow your business. We'll share why it's important to have a clear brand message, how to build a website that works, a simple marketing plan, how to gather testimonials the right way and a few marketing tactics that offer the biggest bang for your buck.