Most marketers looking to start a outdoor industry marketing program for their company in the outdoor, hunting, shooting sports industries are usually met with some resistance from the higher ups.
After all, PR, print, and tradeshow have always been the industry norm. But COVID changed everything. The need for a robust digital marketing program that focuses on D2C sales is essential in the present era. 
If you're still on the fence about pulling the trigger on the benefits of a cost-effective digital and inbound marketing program and are serious about getting on track to building your digital footprint for the future, now's a good time to reconsider. 
In this post, I share three case studies that we've worked hard on over the past 2 years that received some outstanding results.
12-Month E-commerce Case Study
Garrison Everest was approached by a 2-year old consumer products company who had big growth goals that were having trouble getting traction in the marketplace. Due to the cost of entry to place print advertising—they were looking for other means to make their brand known. 
A rebrand was conducted that included new packaging, logo, and e-commerce website to make their products more appealing and more attractive to prospective buyers. Next, we built out three digital marketing programs that included SEO, email, and industry partnerships. To build brand awareness, the SEO program utilized content and industry writers to build backlinks on popular publisher sites. On-page and off-page optimization was also included. Lastly, we began engaging on social media daily, which added a human component versus a faceless brand image with their followers who in the end, shared the client's brand goodness with their followers.

Results
400% Increase in traffic from the previous year

40% in social media followers across Facebook and Instagram

112% increase in email subscribers 
 The amount invested provided the client with a 624% return on investment. The program paid for itself six times over.
 "That's like putting a dollar into the stock market and getting six dollars back."

12-Month Influencer Case Study
A mid-growth company was having problems getting its product to penetrate a competitive accessory segment. Print and banner advertising provided diminishing returns, which set them looking for other ways to get more bang for their marketing dollar. Garrison Everest provided an influencer marketing strategy that worked with prominent industry celebrities and social media influencers to raise awareness of their product.

Results
9.1 M Impressions

7.2 M Estimated Reach

$6.5 CPM

670K engagements
What made this influencer marketing program remarkable was the low CPM. Compare a $6.5 CPM to the cost of placing a banner ad on leading sites where CPM costs can be as high as $25. Influencer marketing provided great value to this company. 
24-Month Inbound Marketing Case Study
Faced with growing competition and a changing landscape, a B2B company contacted Garrison Everest to help them differentiate in the marketplace and generate leads and customers online. 
They were already placing large print buys but were not getting good returns, nor were they able to track their results which made them feel like they were throwing their money out the window.   
We started with a comprehensive brand development assignment that led to a website redesign and a 12-month inbound marketing campaign. Over the course of the next 12 months, traffic increased, leads multiplied, and through automation, we were able to nurture those leads into customers. 
The first campaign was so successful that they renewed for an additional 12 months.


Results
233% increase in traffic

564 leads

383 new customers

664 additional blog subscribers

225% in social media followers
So does digital marketing work in the outdoor, shooting sports and defense industry? 
Yes, it does— unfortunately banging on this drum is difficult because for most marketers putting all their money towards print, PR and tradeshow is more comfortable. However, with the customer base skewing younger, I would argue traditional is becoming a risky bet. 
Digital marketing is all about daily repeatable tasks. Identify a clear message, the right channels, launch, track, optimize, tweak, rinse, and repeat. 
As you consider this year's marketing budget, think about what a reliable digital marketing program can do for your company's growth and the added benefits of a profitable revenue channel that works for you 24/7/365.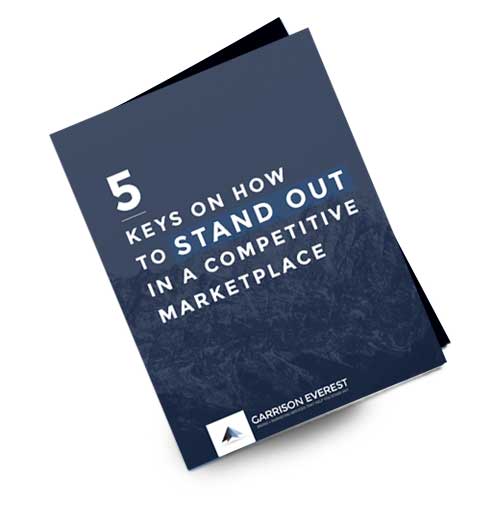 5 KEYS ON HOW TO STAND OUT IN A COMPETITIVE MARKETPLACE
Is your brand getting noticed?
In this ebook, we'll give you 5 keys  that will help you differentiate and grow your business. We'll share why it's important to have a clear brand message, how to build a website that works, a simple marketing plan, how to gather testimonials the right way and a few marketing tactics that offer the biggest bang for your buck.
DOWNLOAD GUIDE