One-off brand and marketing strategies aren't working.
Now what?
At Garrison Everest, we understand the outdoor, adventure, hunting, shooting sports, and defense industries and their unique challenges, and we work with you to get the growth result you've been working toward.
Are you having trouble clarifying your message?
Are you looking to explore other cost-effective marketing methods?
Do you need to reach new customer segments to get to the next level of growth?
Are you ready to develop and build your brand?
BRANDING AND MARKETING THAT WORKS
INDUSTRY MARKETING
KNOW-HOW
For the past 15 years, we've helped over 100 businesses grow their brand.
Get a clear and simple plan to grow your brand and business.
GENERATE RESULTS AND GROW
Stop wasting money on one-off marketing methods that don't work.
GROWTH-DRIVEN MARKETING RESULTS
12-Month Ecommerce Campaign Results
Increase web sales by increasing brand and product awareness through SEO, email marketing, social media and industry partnerships.
12-Month Influencer Campaign Results
Increase brand, product awareness and online sales through Instagram, Facebook and YouTube.

24-Month Inbound Marketing Campaign Results
Increase qualified web traffic, leads and customers through content, SEO, email marketing, automation and social media.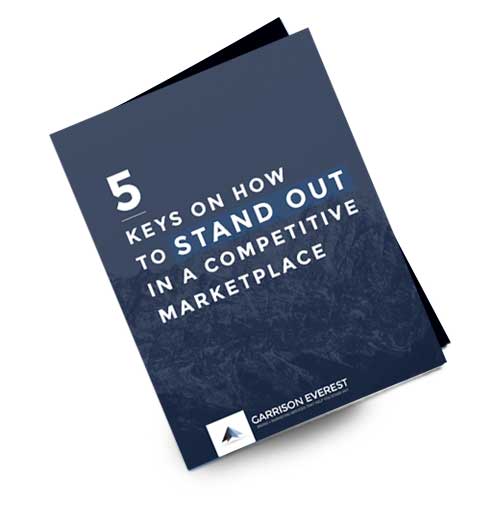 5 KEYS ON HOW TO STAND OUT IN A COMPETITIVE MARKETPLACE
Is your brand getting noticed?
In this ebook, we'll give you 5 keys for 2020 that will help you differentiate and grow your business. We'll share why it's important to have a clear brand message, how to build a website that works, a simple marketing plan, how to gather testimonials the right way and a few marketing tactics that offer the biggest bang for your buck.
BRAND BUILDING AND MARKETING INSIGHTS
GET INSIGHTFUL ARTICLES TO HELP YOU GROW YOUR BUSINESS
Firearms and hunting brands have awaken to the fact that a strong e-commerce component is…
GROW YOUR BRAND AND BUSINESS
GARRISON EVEREST OFFERS THE BELOW BRAND + MARKETING SOLUTIONS
Ecommerce / Email Automation
Google PPC / Facebook Ads
"As the business owner of Outdoor Edge for 25 years, I agree 100% when they say, "It's all about the marketing". Garrison Everest has been key to our marketing efforts and has played an integral part in our company's success for the past 10 years. When we first started working with Garrison Everest, they pushed us to develop a strong and consistent branding theme for our product packaging. This has paid considerable dividends and has pushed our sales to over four times the volume and greatly increased our brand identity and presence in retailers such as Bass Pro Shop, Cabela's, LL Bean, Gander Mountain, Dick's Sporting Goods, and Walmart."

David Bloch, CEO

Outdoor Edge
"Josh was the first person I met with when I first started my company 11 years ago. I can't put in words how valuable he has been to me and my team over the years. He helped us initially name our products (including him coming up with the name Momentum Weight Loss System that we eventually sold the trademark for to Weight Watchers for $250,000) and helped us land a partnership with the 4th largest US insurance company. He flat out over-delivers in every way! Without Josh my company would be a shadow of itself. To call him brilliant, valuable and a tremendous resource would be an understatement."

Jonathan Roche, CEO

Breakthrough HW
"Josh, Thanks for the great job and superior turnaround."

Senior Marketing Manager

Platts/McGraw-Hill
"Garrison Everest's expertise in corporate communication and marketing was most valuable to us. After investing $180,000 in computer-based training, we were looking for a way to increase traffic to our website's Learning Management System. Garrison Everest created an in-house advertising campaign that increased traffic and the overall number of courses completed by employees. As a result, our staff is better educated and performs more efficiently and effectively when compared to one year ago."

David Iglicki

Director of Training, Great-West Life
"My company had a very positive experience with Garrison Everest. We originally contracted with them to develop our new company's brand and help us set some initial brand standards. We then extended our contract to have them develop a new website. The process was very efficient, we received all deliverables on time, and appreciated their creative process which incorporated all our feedback and gave us excellent options to choose from, and view different iterations until we got it right. Bottom line – the work product was great and the fees were very reasonable."

Jeff Berge

Director of Marketing, Altura Associates
"Inbound marketing is like magic. Establishing yourself as an expert and making your presence and expertise known on the internet are key. It's all about providing free knowledge to the market you serve and showing those you educate how you can provide even more value to them as clients or customers. Josh Claflin is the magician. If you're good at what you do, he can make it happen for you as he has for us."

Jeff Grody

Executive Director, Orchid Advisors